Fogo de Chao
Have you ever been to Fogo de Chao?  If you haven't let me give you a piece of advice up front: don't eat for days ahead of time! OMG! Their food is to die for, but boy will you get full!
Fogo de Chao is an upscale Brazilian Steakhouse located in Addison. It is a unique dining experience that you won't forget.
Normally they don't open until 4pm. For Easter, however, they are open extended hours 11am – 9pm.  If you don't want to cook for Easter or are having family in town and want to go somewhere nice, we highly recommend Fogo de Chao.  It's not a place you might typically think of for Easter, but why not?
Read on for why we like Fogo de Chao.
1. The food is excellent. Everything from the meat (more on that later) to the salad bar is wonderful. The food was all fresh and very tasty.
2. The assortment is amazing. When you first enter the restaurant you see the "salad" bar. This is really more than salad I might add.
There is everything from the traditional salad fixin's to proscuitto, cheese, bread, prepared salads (such as chicken salad, tomato and mozzarella salad etc), traditional Brazilian side dishes and more exotic vegetables you don't see at your typical salad bar such as asparagus and hearts of palm,  and much more.
Across from the salad bar are black beans and rice. Like I said, this is Brazilian style so beans and rice are on the menu. Plantains are also brought to your table for more Brazilian flair.
Also served right to your table are roasted potatoes, garlic mashed potatoes and french fries. Oh, and the mini muffins were a hit with our son.
They also have a dessert menu. I would imagine most people don't have room for dessert, but if you do, they offer a wide variety of desserts too.
3. You pace yourself. "All you can eat" buffets are very tempting. It's hard to walk away and not stuff yourself or eat things you wouldn't normally eat.
Fogo de Chao is not a buffet. You can pace yourself on how much and when you want to eat. That is a novel concept in restaurants. Normally in a restaurant you order, they bring your food, you eat. At Fogo de Chao most people do help themselves to the "salad bar" first. Then when you are done, the real fun starts!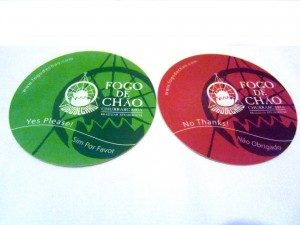 When you are seated you are given what look like coasters. One side is red and the other side is green. Think stoplights. When you're ready to start the meat portion of your meal just flip your "coaster" to green & away you go!  Trust me, when they spot your green light, you will immediately be served. And they respect it when you turn it to red. You call the shots on how much and when you want to eat.
4. Wide variety of meat – With 16 different meats to choose from there's something for everyone. Between all of us we tried the filet mignon, bacon wrapped filet mignon, bacon wrapped chicken, chicken legs, sausage, sirloin, pork ribs, Parmesan encrusted pork loin and rib eye. The best I will save for last, picanha. Wow, that sounds like alot! I didn't eat all of those, I promise!  By the time the lamb was offered, we were all too full but it sounded really good.  And there are 5 more we didn't try. Not because they weren't good, but we tried these first and then we were too full.
The servers will also ask you how you prefer your meat – rare, medium or well done.  So you have choices.
The meat is fire roasted. Here is a shot of some of the meat being roasted. You can see it when you walk in the door. It was hard to get a good shot with my flash going off.
5. Picanha is "to die for."  Their signature steak is a prime cut of top sirloin. It is so fork tender (as was all of the meat I might add) and delicious. They have two varieties of seasoning. We liked the robust, more garlic-heavy version.  Meat lovers, you will be in "Meat Heaven" with this one. You can't go wrong! They slice it very thin and it is very tender and flavorful.  I have never tasted anything like it anywhere. Don't go home without trying it!
6. The atmosphere. Everyone at the restaurant is very nice and friendly.  What makes a Brazilian steakhouse so unique (besides the delectable meats) are the gauchos who come right to your table and slice the meat off of large skewers for you.  For children, this is pretty fun to see this happen for the first time.
Like my son said, "This places is way nicer than Olive Garden!" I had to chuckle at that because well, um, yeah! He thought the gauchos were pretty cool and that's saying something from an  almost teen!
I can tell you a whole lot more of wonderful things about Fogo de Chao, but I'll end on the note of my son's observation. Yes, it is way nicer than Olive Garden! It is delicious, the service is excellent, the staff are very friendly and well, you should try it for yourself!
Katie, AroundTownKids Mom on the Go
©2015 AroundTownKids • All Rights Reserved
"Mom on the Go" Articles are the property of AroundTownKids.com ©
Easter Date/Hours: 
Sunday, April 5th  Open 11am-9pm (open extended hours)
Cost: 
Kids 6 years and under eat for free, kids 7 – 12 – half price