Easy Christmas Appetizers
Have the whole gang coming in for the holidays? Or an impromptu Christmas party for friends or unexpected guests?  Here are some ideas for Easy Christmas Appetizers; great finger food for  holiday gatherings.
Easy Christmas Appetizers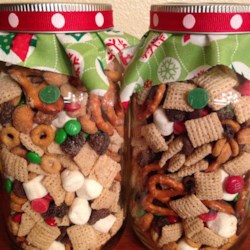 *Christmas Snack Mix – There's tons of variety on this one. Create your own, buy one at the store or mix and match a few varieties. Think holidays by adding red and green M & Ms or other colorful candies, holiday shaped pretzels, holiday spices like cinnamon and nutmeg.
You can even make them and give them as gifts like the photo.
*Go Nuts! – Nuts are always a favorite. Add festive touches like cranberries and marshamallows or roast your own nuts with a salty/sweet twist. To get really into the Christmas spirit think roasted chestnuts! Or try sugar coated pecans or cinnamon almonds.
*Get Dippy! – Who doesn't love Ranch Dip and veggies? Expand on the classic favorite with Spinach Dip (always a crowd pleaser) or crab dip or artichoke dip. Get a little sweeter with fresh fruit and cinnamon tortilla chips.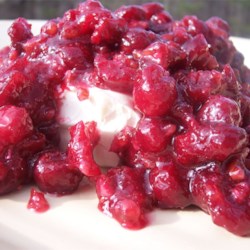 *It's Cheesy! – Here's a new twist on your standard cheese ball – chocolate chip cheeseball. Yum! Serve with honey twisted pretzels. Or Cranberries and Cream Cheese for sweet and tart combo. Or for those with a traditional palate – Bacon Ranch Cheeseball.
*Fondue – Fondue seems to be making a comeback. Give it a try with various cheesy fondue recipes or pizza fondue for the kids. For dessert fondue try chocolate and let the kids dip in marshmallows, strawberries, pretzels or other fun finger food.
Next time you have some unexpected guests for the holidays or just a house full, try one of these Easy Christmas Appetizers recipes.