With Earth Day coming up we thought you might like to make these fun Earth Day crafts from recyclable materials. Why not save a little money and re-purpose some materials you have around the house? These crafts are easy to do & super cute!
Egg Cup Insects – Let your imagination run wild when making these cute little egg cup insects. Kids can use whatever colors they like to create their own fun designs!
Pet Food Scoop made from a Laundry Bottle – have pets? Don't throw out that old laundry bottle! You can re-purpose it and make a pet food scoop.
Egghead Eggshell Planter– great for any time of year!  No fancy materials are needed. With just an eggshell, a little soil and some seeds, you can grow your own planter. It's the ultimate in eco-friendly craft ideas!
Pet Rocks – pet rocks are back! This time you can jazz them up all by yourself, create funny faces and more!
Coffee Filter crafts – put your coffee filters to another use and make butterflies!  Add some pipe cleaners for antennas & so simple – and cheap!
Milk Bottle Cap Board Game Pieces – personlize your next board game with your own face! Now there's no more fighting about who gets which piece!
Clothespin Dragonfly – still have any of those old wooden clothes pins hanging around? If not, they're really cheap to buy. Make it a magnet  – or not. Keep your kids busy with this adorable dragonfly!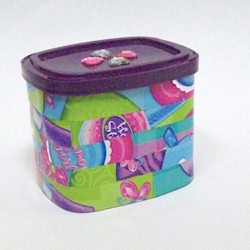 Ice Cream Container Treasure Box – if your family loves ice cream, then you may have some empty ice cream containers. Let the kids decorate them up (after you've washed them of course) & store their favorite treasures in there.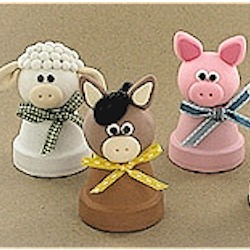 Clay Pot Farm Animals – make these adorable farm animals using clay pots.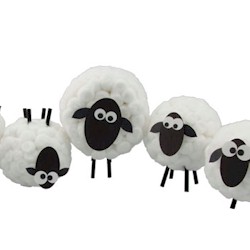 Cottonball Sheep – add these in to your farm! Super simple to do & uses cottonballs, another cheap material.